At Millin Brook, we believe that the dogs who stay with us deserve a holiday of their own. We go out of our way to ensure their stay with us is happy and healthy, giving you peace of mind. All dogs are different and have individual requirements, so we go above and beyond to meet their needs. Your dog will live with us and be treated as one of the family. Our guests are with us all day, whatever the weather, out and about on our smallholding. During a typical day, our guests will have two to three big walks. They'll be getting plenty of exercise and the opportunity to socialise and explore.
Our retreat is nestled in the heart of the beautiful Pembrokeshire countryside, yet a mere 5 miles from both Haverfordwest and Bluestone Resort. Millin Brook Luxury Dog Boarding is a multi-award winning, family-run business. We offer "home from home" bespoke holidays for all types of dogs. Millin Brook offers the best holiday experience for your dog, with guests enjoying days filled with walks in the countryside, playing in our 10 acres of securely fenced meadows, trips to some of the best beaches in the country and nights spent sleeping soundly and dreaming of tomorrow's fun and adventures!
Fully licensed by Pembrokeshire County Council, insured and a member of the Pet Industry Federation.
"Established in April 2018, Millin Brook Luxury Dog Boarding have been overwhelmed with having their success acknowledged. Listed below are some of the awards they have been successful in..."
Siân is a retired Police Officer of 20 years. 13 years of her service was as a Mounted Police Officer with South Wales. She also worked closely with the Police Dog Section, and on occasion assisted with animal welfare duties and training. Siân is passionate about animals, and loves being out and about exploring with the dogs. She is also a keen photographer, specialising in dogs and horses.
We have many security features in place at Millin Brook, as the security of dogs in our care is our top priority. As a former Police Officer, Sian has been at the forefront of dog theft prevention advice and has featured in numerous national publications regarding her work. Sian has used her knowledge and experience to create a course for pet professionals offering Pet Theft Prevention Advice.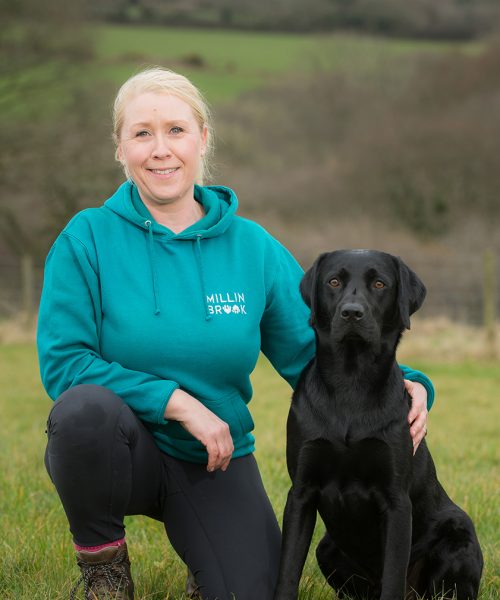 Dave has worked professionally with dogs for 9 years at the very highest level. He is a keen sportsman and has taken part in several marathons, triathlons and even completed Ironman Wales in 2017. He continues to train and is keen to beat his Ironman time in the not too distant future! Since moving to Pembrokeshire, he has turned his hand to bee keeping and is enjoying the outdoor life even more and has taken up his love of surfing again.
Ben is the eldest son, and Jacob is his younger brother. They have grown up with dogs and love dogs of all shapes and sizes. They like nothing more than running in the fields with them, and will even try and get them to have a game of football!
Jessica joined Millin Brook as a full-time team member in April 2022.
Jessica has over 12 years experience working professionally with dogs and horses and has come very highly recommended to us. Jessica brings with her a wealth of knowledge, drive, enthusiasm and love of dogs to our family run business. We are absolutely thrilled to have Jessica as part of our team!
Niamh is a veterinary student and joined our team in July 2022. Through her degree she is studying dog anatomy, physiology, behaviour and welfare. We are delighted that Niamh will be helping us through the holidays.
Barnaby is our beloved Pembrokeshire-born black Lab. Typical Labrador – he loves his food, and will do anything for a treat! After his daily adventures he loves nothing more than cwtching up on the sofa in front of the log burner.